You may have seen Lynn at:
Canton United Helpers Rehabilitation Center
Minna Anthony Common Nature Center Holiday Bonanza!
Thousand Island Park Library
The Thompson Park Zoo for a Stories and S'mores at the Zoo story time
C.A.T.E.R Days at Carthage Elementary
New Day Children's Center SACC
Wellesley Island with New Day SACC
Oak Point, Murray Island
Rhicard Hills Community Center on Fort Drum
West Carthage Elementary's Fall Fall Festival
Carthage Middle School
Sally Ploof Hunter Memorial Library (Black River)
St. Mary's Catholic School (Canton)


Entertaining
audiences of all ages
Entertain your guests with classic stories from Lynn Morgan, professional storyteller. Lynn is a master in the art of storytelling and has 30 years of experience in enthralling audiences of all ages. She specializes in telling traditional folk tales from around the world. Lynn also teaches storytelling workshops to help others learn this unique craft. Add some pizzazz to your next get-together with an exciting and entertaining storytelling presentation.
Contact Lynn if you want to add a fun activity at your event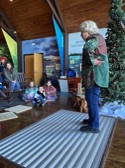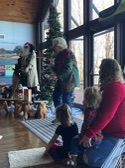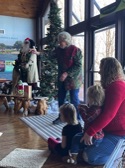 From Dawn K. at the Canton United Helpers Rehabilitation Center
Very entertaining, energetic and fun!"
"Let's have her back again! The stories were great and told with such vigor!"
"Great time, easy to interact with and a fun time!"