Lynn Morgan
717 Fulton Street
Carthage, New York 13619
315.493.2637
Fees
Presentation:
$275-$300 per 45 - 60 minute presentation
Maximum of 3-4 presentations per day
When Lynn visits your school or meeting, you can be assured of a wonderful and entertaining time. You will hear traditional tales from around the world, including drawing and string stories and fables. Many stories incorporate songs and other audience interaction techniques.
Presentations can be tailored to meet specific audiences or themes.
Workshops
Lynn is also available to conduct a storytelling workshop for your group. You will learn the art of telling stories in a hands-on experience.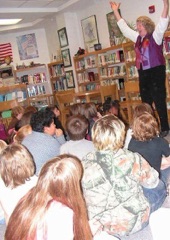 • School visits
• Public Libraries
• Scouting Outings
• Church Groups
• Birthday Parties
• Senior Citizen Events
• Community Festivals